Have you ever wondered what your husband or boyfriend is up to when he's home alone? Perhaps he's taking advantage of the opportunity to do some of the things he doesn't get to do when everyone else is around. From indulging in their favorite hobbies to just enjoying the quiet, here are 18 things that men love to do when they're home alone:
Playing Guitar Like a Rockstar
Sometimes, all a man needs is an empty house and his trusty guitar to relive his teenage years. Cranking up the volume and playing like there's no tomorrow, men love to channel their inner rockstar. It's a way for them to unwind, de-stress, and get those creative juices flowing. There's no shame in doing this!
Thermostat Takeover
Controlling the thermostat is a small but powerful pleasure for men. With no one else in the house, they can set the temperature to their exact liking. They might order their favorite food that no one else appreciates and even watch whatever they want on the big screen instead of a small iPad. This simple act of independence can make a man feel like the king of his castle.
Creative Projects
An empty house is a perfect opportunity for a man to get lost in his creative projects. Whether it's woodworking in the garage, crafting model airplanes, or drawing, the silence and solitude provide the ideal environment for creativity to flourish. When a man is engaged in a project, time flies, and he can spend hours doing what he loves.
Taking a Day Off
Nothing beats a day off work with no responsibilities. Some men secretly take a day off and indulge in their favorite activities, like catching up on sleep, brewing strong coffee, and browsing the internet. Then they surprise their partners with dinner and enjoy the smiles and appreciation that come with it.
Video Game Marathon
An empty house is the perfect setting for a video game marathon. Men often take this opportunity to play their favorite games without any distractions. They can spend hours immersed in the virtual world, competing with online friends and even reliving their childhood memories.
Starfish Lounging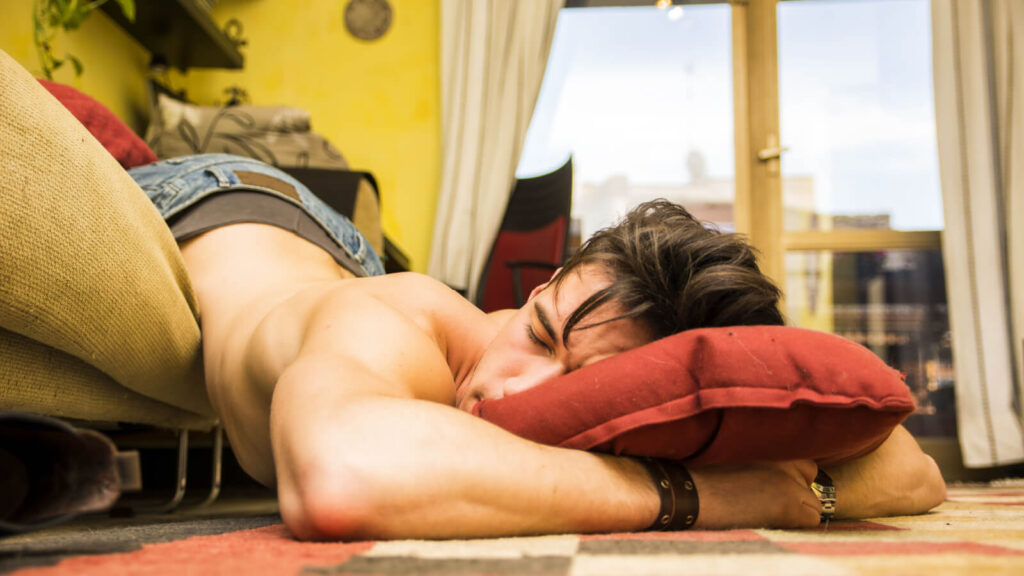 Lying spread out on the bed like a starfish is a simple but satisfying pleasure. With no one around to judge, men can enjoy the freedom of sprawling out and just relaxing. It's a perfect way to unwind and recharge without worrying about daily stresses. What a day!
The Art of Baking
Baking is not just for women. Many men enjoy baking and see it as a creative outlet. The process of measuring, mixing, and decorating can be therapeutic and relaxing. When the house is empty, it's the perfect time for a man to try out a new recipe or bake a batch of cookies without any interruptions.
Silent Sanctuary
There's something incredibly peaceful about not speaking for an entire weekend. Some men cherish the rare opportunity to be completely quiet when their family is out of town. They don't turn on the TV, make calls, or even use their voices. It's a time to enjoy the silence and just be present in the moment.
The Solo Burger Run
When their partners are away, some men seize the opportunity to visit their favorite old-fashioned burger joint in the neighboring town. They get a bottle of red wine, order a juicy burger, and then retreat to their bed to watch movies their partners might not appreciate. It's a solo date night that men secretly enjoy.
Missing Their Better Half
While it's great to have some alone time, most men find themselves missing their partners when they're not around. It's a bittersweet feeling that reminds them of the special bond they share, although these men should also learn to love time by themselves as well. There's so much fun to be had!
Pooping with the Door Open
It might sound funny, but there's a certain sense of freedom in using the bathroom with the door open. If they do this when their partners are at home, it always ends up in an argument about the smell! With no one else around, men can enjoy this simple yet liberating pleasure without a care in the world.
Cat Adventures
When the house is empty, men who own cats often take this opportunity to play with them, build forts, or even go for walks in the woods. It's a chance to bond with their furry friends and have some fun together. Furry friends and an empty house with no plans – what more could you wish for?
Farting Freely – The Ultimate Home Alone Activity
Yes, you read that right. Farting freely, without fear of judgment or embarrassment, is a small guilty pleasure that many men indulge in when they're home alone. Let's face it, everyone farts, but societal norms often dictate that it's impolite to do so in the company of others. So, when the house is empty, men seize the chance to let loose unapologetically.
Nap Heaven – A Sanctuary for the Sleep-Deprived
When you're caught up in the whirlwind of family life, finding a quiet moment for a nap is like searching for a needle in a haystack. With constant obligations and demands, it's hard to carve out time for rest and relaxation. But when the house is empty, men have the rare opportunity to transform their homes into a nap heaven.
The Joy of Doing Nothing – Embracing Stillness
Sometimes, men just want to sit back, relax, and do absolutely nothing. In the hustle and bustle of modern life, it's rare to find a moment of true tranquility. But when they're home alone, men have the chance to do just that. They can simply sit silently, enjoy the stillness, and let their minds wander. It's a luxury that many cherish, a break from the constant demands of everyday life.
Music Immersion – A Journey Through Sound
There's nothing quite like putting on a pair of high-quality headphones and getting lost in the music world. When they're home alone, men often use this time to immerse themselves in their favorite tunes. The sound quality and depth of the music transport them to another world, where they can forget about their worries and lose themselves in the melodies.
Bourbon and Cigars on the Deck – A Timeless Pleasure
For some men, there's nothing better than sitting on the deck with a glass of bourbon and a cigar. The combination of the smooth drink, the rich aroma of the cigar, and the feeling of the cool breeze on their skin creates a moment of pure relaxation. With the world on pause, they can sit back, take in the beauty of nature, and relish peace and quiet.
Bird Buddies – Creating Special Moments with Feathered Friends
Men who own pet birds often spend time teaching them tricks or simply enjoying their company when they're home alone. Birds are intelligent and social creatures who can form strong bonds with their owners. When the house is empty, men have the perfect opportunity to connect with their feathered friends. They can teach them new tricks, talk to them, or simply enjoy their presence.
THE HIDDEN DESIRES OF MEN: 10 THINGS MEN SECRETLY CRAVE IN A WIFE BUT DON'T HAVE THE COURAGE TO ADMIT
You may think that men only want two things from a wife, food and some fun in the bedroom. However, males are more complex than that. Here are ten things men want from their wives that will enhance the relationship.
THE HIDDEN DESIRES OF MEN: 10 THINGS MEN SECRETLY CRAVE IN A WIFE BUT DON'T HAVE THE COURAGE TO ADMIT
STUCK IN THE 60S: 10 THINGS BABY BOOMERS REFUSE TO LET GO OF
Memories of the "good old days" keep us trapped in the past. Baby boomers love to retell tales of how it was "in my day." At the same time, millennials will tell them to get with the times. Being stuck in a time warp from which they don't want to snap out of, here are things that baby boomers still think are fantastic. STUCK IN THE 60S: 10 THINGS BABY BOOMERS REFUSE TO LET GO OF
10 THINGS MEN DESIRE THAT WILL MAKE WOMEN RAISE THEIR EYEBROWS
You may think that, finally, you have your man figured out. How wrong you were. Here are 10 things men love that you may find surprising, according to an online forum.
10 THINGS MEN DESIRE THAT WILL MAKE WOMEN RAISE THEIR EYEBROWS
THE RED FLAGS ARE WAVING: 18 HOBBIES THAT WILL SCARE AWAY ANY POTENTIAL PARTNER
We wanted to know what hobbies are a big fat nope.
THE RED FLAGS ARE WAVING: 18 HOBBIES THAT WILL SCARE AWAY ANY POTENTIAL PARTNER
WAKE UP, LADIES! THE 10 BITTER TRUTHS MEN WISH WOMEN WOULD FINALLY ACKNOWLEDGE
Regarding men and women, it seems like we're from different planets, though we are the same species. Women always come across as enigmatic, a mystery men must fathom. Yet, men can be just as challenging to understand. Here are ten things that men wish women knew about them. Hopefully, this helps females gain deeper insight into the world of men.
WAKE UP, LADIES! THE 10 BITTER TRUTHS MEN WISH WOMEN WOULD FINALLY ACKNOWLEDGE